How to Snorkel on Maui Without Breaking the Bank
Snorkeling is one of the best things to do on Maui. And better yet, it can be one of the cheapest activities on the island! While some visitors go all out and book snorkel tours on private sailboats or luxury catamarans, others look for ways to save. For budget-savvy visitors, we've got the low down on the most cost-effective ways to maximize your snorkel experience. These are the best Maui discount snorkel tours.
Discount Snorkel Tours
For first-time snorkelers or visitors interested in visiting Molokini, we highly recommend taking a snorkel tour. Remember, snorkel tours double as whale watches in whale season (November to April)— talk about value! Here are some of the best budget snorkel tours on Maui.
Calypso – Molokini & Turtle Town Tour from $189.95 per adult
$190 per head might not scream 'discount,' but Calypso gives you bang for your buck. This five-hour tour departs from Maalaea Harbor and visits two premier snorkel spots: Molokini Crater and Turtle Town. For newbie snorkelers, Calypso offers snorkeling instruction, floatation devices, and easy ocean access.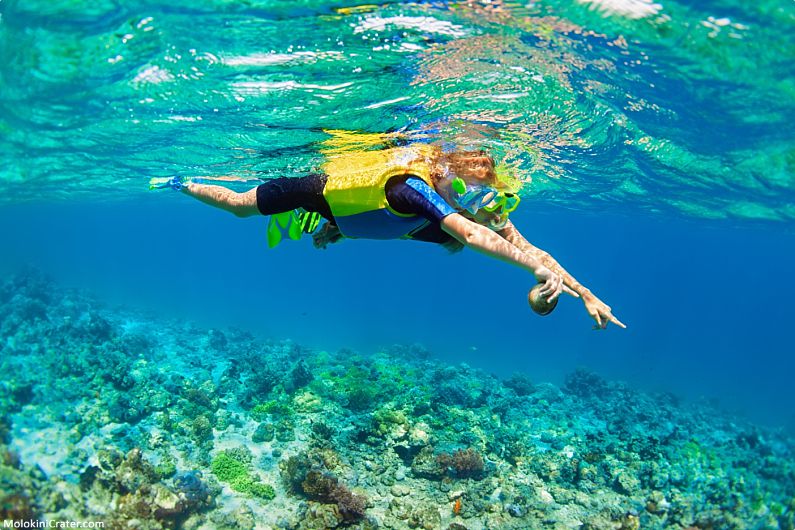 Calypso's spacious vessel is equipped with numerous amenities to ensure guests are as comfortable as possible. The vessel boasts 4,000 square feet of plush seating, both covered and uncovered. Plus, the boat's sturdy design makes for an ultra-stable ride, especially on the lower levels. Calypso is also equipped with warm freshwater showers to use post-snorkel, because who wants to spend the rest of the day coated in salt?! What's more, you sure won't go hungry aboard Calypso. The crew is happy to provide a continental breakfast and a lunchtime feast.
Once safely anchored, Calypso becomes a floating fun park. Kids— or kids at heart— go crazy over the two onboard waterslides. The more daring few can attempt the second deck platform jump. But, of course, the real splendor exists beneath the surface at Molokini and Turtle Town— which even non-swimmers can take advantage of, thanks to Calypso's glass bottom windows.

Nature lovers— this one's for you. Departing from Maalaea Harbor, this five-hour excursion will bring you face-to-face with Molokini's outstanding coral garden and, if you're lucky, green sea turtles. But it's not just the epic snorkeling that gives this tour added value— it's the education that PacWhale infuses into the experience.
PacWhale has called its eco-tours "floating classrooms." Aboard every PacWhale snorkel tour is a certified marine naturalist who delivers valuable insight into Maui's marine environment. A fish ID class is also offered onboard, which helps both beginner and veteran snorkelers familiarize themselves with species commonly spotted in Maui's waters. For the keiki, a free Jr. Naturalist Program is provided. Kids can play interactive games while learning about marine species and environmental stewardship.
Despite its educational value, PacWhale knows how to show its guests a good time. Beginner snorkelers can take advantage of the complimentary floatation devices and snorkel instruction. You'll also be treated to a Maui-style continental breakfast— think banana bread and Maui coffee— and a heaping grilled lunch. And if you want to indulge in a libation or two, PacWhale's bar is stocked with spirits, wine, and local beer.

Off-The-Beach Snorkeling
For a true budget snorkeling experience, off-the-beach snorkeling is the way to go. But before we go any further, here are a few helpful safety tips to ensure you stay out of harm's way while snorkeling.
Always snorkel with a buddy. It's essential to have at least one partner to help you (or vice versa) in case of an emergency.
If this is your first time snorkeling, try practicing in a pool beforehand. Breathing through a snorkel can be a tricky thing to get used to.
Pay attention to the elements, namely wind, and waves. Mornings are the best time to snorkel because the winds are usually calm. Strong winds can push you out to sea, plus they churn up the ocean and make for a sub-par snorkeling experience. Also, keep an eye on the swell report and watch the ocean for a while before entering.
Avoid stepping on or touching the reef, and give animals their space. Stepping on the reef kills it, and it can also cut you up pretty badly.
Use sun protection. Reef-safe sunscreen and a sun shirt should do the trick.
Gear
Some people pack their snorkel gear, but you can also buy or rent gear while on Maui. Costco usually has a decent selection. Or you can check out one of the island's many dive or snorkel shops. For the best gear rentals, we recommend Boss Frogs. Whether you buy or rent, you'll need a mask, snorkel, and fins.
Ok, now the fun stuff. Here are some of the best places to snorkel off the beach in Maui.
Olowalu Beach
Olowalu Beach is located between Maʻalaea and Lahaina at mile marker 14. Olowalu is one of the island's top snorkeling spots, home to Maui's "mother reef." Spanning roughly 1,000 acres, Olowalu is the largest fringing reef in the state. Some of the massive coral heads here are over 500 years old!
For the best snorkeling, you'll want to swim out a few hundred feet to where the water is clear. Here, you'll spot towering lobe corals amid sandy, aquamarine channels. Expect to see red pencil urchins peeking through the reef, a healthy amount of fish, and a sea turtle or two. Olowalu Reef also boasts one of the largest manta ray populations in the state— so cross your fingers that you see one!
Olowalu Beach Info:
Entry: Sandy
Parking and Access: Ample parking off Honoapiilani Highway. Park and you're there. The highway is just a few dozen feet from the sand. But avoid parking your 2wd rental in the sand or risk getting stuck.
Experience Level: Intermediate.
Facilities: None.
Optimal Conditions: High tide— the reef can be too shallow to snorkel on low tide. Avoid during summer south swells and windy days. Opt for calm mornings, if possible.

Maluaka Beach (Turtle Town)
Many tour boats stop at Turtle Town after visiting Molokini. But did you know that you can access Turtle Town from the beach? Maluaka Beach in Makena is the easiest way to do so— and Maluaka is one of the most user-friendly beaches in the area.
You can find the most choice snorkeling off the southern point. You're almost sure to see turtles every time, as well as parrotfish and lots of tangs. The reef in the shallows isn't as pristine as other places, but the further out to sea you go, the better and more pronounced the corals get.
Maluaka Beach Info:
Entry: Sandy
Parking and Access: There is plenty of parking in the southern lot off Makena Keoneoio Road. Be sure to avoid parking in the Kai Kanani Sailing lot. Follow the paved walkway to the north to reach the beach.
Experience Level: Beginner to expert. Beginners can easily stick around the shallows. Experienced snorkelers might enjoy the reef further off the beach.
Facilities: Bathrooms and showers.
Optimal Conditions: Calm mornings. Avoid during south swells and west swells. Keep in mind the strong tradewinds usually come up around 11.

Ahihi Kinau
Ahihi Kinau is a Natural Area Preserve located near La Perouse, a few miles past Makena State Park. Two premier snorkel spots are located within the reserve: Ahihi Cove and Kanahena Beach, better known as "Dumps" to local surfers. No fishing or commercial activity can occur in the preserve, which means the reef and marine life are thriving.
Ahihi Cove offers shallow, protected snorkeling for beginners. You'll likely spot lots of tangs, triggerfish, goatfish, and humuhumunukunukuapuaʻa. Meanwhile, Kanahena offers snorkeling in deeper water, which presents opportunities to see larger animals like turtles, rays, and reef sharks. The ocean here is crystal clear, and the seafloor is an undulating mix of lava and corals.
Ahihi Kinau Info:
Entry: Rocky. Water shoes are recommended, but please don't walk on the reef!
Parking and Access: There is a decent-sized parking lot just past Ahihi Cove on Makena Road. Parking here is $5 for non-residents. To access Ahihi Cove, follow the trail along Makena Road back the way you came for about a quarter mile. A separate rocky path behind the parking lot leads to Kanahena Beach.
Experience Level: Beginner to expert. Intermediate/experts should be able to navigate the rocky entry at Kanahena Beach easily. Meanwhile, beginners might feel more comfortable at Ahihi Cove.
Facilities: Porta potties.
Optimal Conditions: Morning conditions are usually best. Avoid on windy days or during south and west swells.

Honolua Bay
Honolua Bay is one of Maui's top snorkeling spots. Located just north of the Ritz Carlton in Kapalua, the bay is a Marine Life Conservation District, teeming with corals, tropical fish, and sea turtles.
Getting to Honolua Bay requires a short hike through the jungle from the highway. The path winds through a forest overgrown with vines. The walk is as magical as the snorkeling itself! Be sure to take your time and enjoy it. Once near the shore, you'll notice a rock beach, a small river mouth, and an old boat landing. The water here might be cloudy because of the silt churned up by the river mouth, but don't fret. The water is the clearest on the right-hand side of the bay. You can reach this area by swimming from the boat ramp or doing a rock hop to a closer entry point.
Honolua Bay Info:
Entry: Rocky with patches of silt from the river mouth.
Parking and Access: There is a smattering of parking off Honoapiilani Highway. The largest parking area is a dirt lot near the bottom of the valley. Look for a purple food truck and porta potties. If parking off the highway, please ensure your car is completely off the road.
Experience Level: Intermediate to expert. Beginners might have a hard time navigating the rocky shoreline and long swim to the reef.
Facilities: Porta potties and nearby food trucks.
Optimal Conditions: Honolua is best in the summertime. In the winter, large north swells transform Honolua Bay into a world-class surf spot, making snorkeling impossible. Avoid snorkeling here after heavy rains or when the water is brown (chocolate milk brown, not just cloudy from stirred-up silt). Brown water often means elevated bacteria counts. Sharks are also common here when it's murky. Lastly, Honolua Bay is bordered by tall cliffs that stave off tradewinds. Strong winds are usually not an issue, but use your best judgment before snorkeling here.

What is your favorite way to snorkel on a budget? Do you prefer off-the-beach snorkeling or hopping on a tour? Tell us about it in the comments. And remember to share this post with your snorkel buddy!