Visit our volcanic atoll just off the south coast of Maui, Hawaii.  Come experience clarity and ocean life like you've never seen while snorkeling and scuba diving at Molokini Crater! 
Latest from the Molokini Blog
Molokini Crater is home for Maui residents and visitors looking for the best snorkeling clarity as well as protected ocean and bird life.  Come scuba, snuba, snorkel and/or whale watch in season at Molokini Crater!
We're updating all our popular posts to reflect changes due to the fires across Maui.  If you're...
We're updating all our popular posts to reflect changes due to the fires across Maui.  If you're looking for updates and ways to help, check out...
Arrive on Maui's leeward side, and it may be impossible to tear your eyes away from Molokini. This small, horseshoe-shaped landmass rests between...
From Lava to Life
Molokini Crater is what's left from an eruption that is said to have occurred around 230,000 years ago. The cinder cone created has since been eroded to a crescent atoll.
Since it's violent volcanic creation, Molokini Crater has served as a useful place for marine life, bird life and humans (for good and bad.)
The little, uninhabited island has been fished, bombed, and finally protected.
No, you can't swim to Molokini Crater.  There are 3 main areas that boats depart from.  Makena and Kihei Boat Ramp are some of the closest.  Maalaea Harbor is where most boats leave from, which is convenient and not far from Molokini. Check out some of the best snorkeling tours in Maui below.
A Molokini adventure is one of the best snorkeling trips in Maui you can take. From Hawaiian green sea turtles to whales to epic rock formations, there is so much to see and several ways to see it. Whether you prefer to snorkel, snuba, or scuba, a Molokini trip will not disappoint.
SCUBA DIVING
Why is Molokini famous for scuba diving?  Not only are the calm, clear waters within the crater great for exploration, but the backside offers a wall dive dropping hundreds of feet!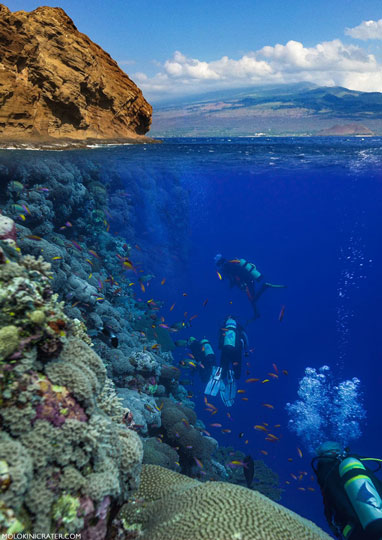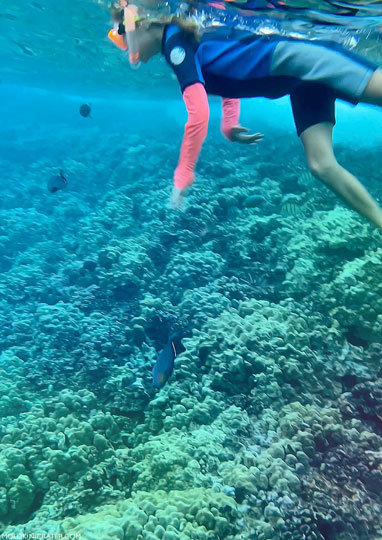 SNORKELING
Most Molokini Crater visitors come to snorkel in the clear waters and see tropical fish. A Molokini snorkeling adventure will have everything you'd need to enjoy this incredible spot.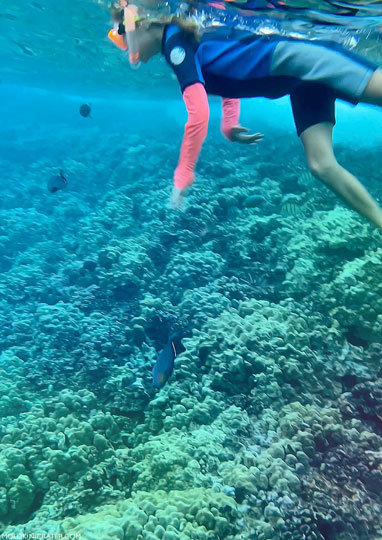 SNUBA DIVING
For those looking for more depth but aren't scuba certified, try a Molokini crater snorkeling tour that also offers SNUBA.  Try your hand at breathing underwater without the weight of the tank.
How do the different dive sites at Molokini compare?  We share about each snorkeling and scuba location at Molokini Carter.