Planning a Maui Vacation?
Adults traveling to Maui are often planning to do a great deal of relaxing on the beach and not much else. However, families traveling together want to find activities that everyone can enjoy, from the smallest family members to teens and adults.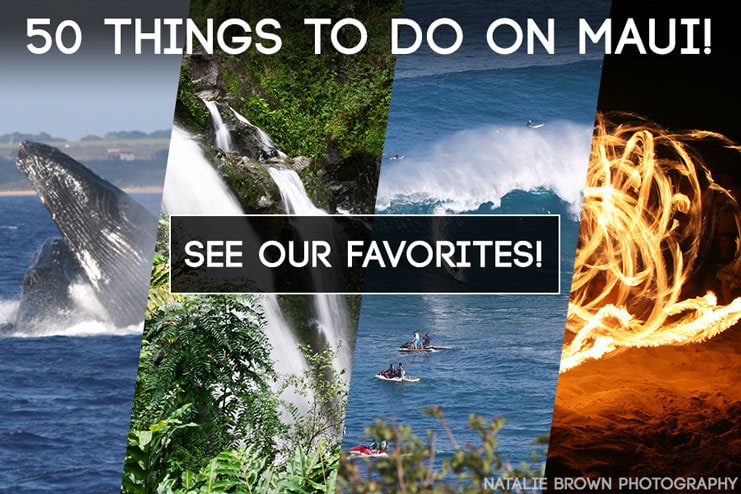 Fortunately, the beautiful island of Maui is so full of wonderful things to see and do that you'll have no trouble filling your days and nights with one great experience after another. The only difficulty is choosing which ones you'll have time for.
We've tried to make that planning process easier for you by collecting what we feel are absolutely the 50 best things to do in Maui. We'll even let you know which ones are appropriate for which age groups.
All of these experiences and sights are so terrific that we can't bring ourselves to rank them in order, so #1 is just as wonderful as #50. Here are our picks in random order. Enjoy!
Coming to Hawaii without attending a luau is like visiting New York City without seeing the Empire State building. However, there are luaus and there are luaus. Many luaus are traditional rather than touristy and the food, entertainment, and aloha spirit will stay with you long after you get back home. This activity is great for everyone, from the youngest family members to the oldest.  We suggest choosing from these select Maui luaus.
The Road to Hana is the best exploration adventure on Maui. Period. Almost anyone you meet in Maui will ask if you've been to Hana yet. Friends back home who have been to Maui will ask you how it was. There's a reason why taking the Road to Hana is one of the most popular activities in Maui. The winding road up to Hana will take you through some of the most beautiful scenery on the island. The trip will take all day if you're doing it right, and you can choose to drive it yourself or take one of the many great guided tours and leave the driving up to the professionals! We feel like the best way to experience Hana is to stay in Hana for a few days. For a fully immersive Hana experience, stay at the Travaasa Hana by calling (888) 820-1043.
There are only three underwater volcanoes on the planet and Maui has one of them. Molokini Crater is a diving experience like no other. Crystal clear water as deep as 200 feet and thousands of gorgeous fish make it one of the most awe-inspiring things you'll ever see. There are many family-friendly Molokini snorkel excursions to choose from, with snorkeling, snuba and scuba available as well. Meals on most tours are included, which makes it a great deal for an amazing day. This is a great activity for the entire family, so get out on a boat and experience Maui from the water!

Taking in the beauty of Maui from above is a must-do while on island. Why not learn how to fly a plane while you're at it? Get a taste of flight school with Fly Maui's unforgettable Discovery Flight experience. This hands-on flight lesson is open to just about anyone, and it's a great way to discover some of the island's most well kept secrets. Complete with a certified FAA flight instructor to guide you, learn how to take off and pilot a plane in an hour-long scenic flight around the island. Call (808) 280-3290
Charlie Don't Surf? He does now. No one should come to Maui without at least trying one surfing lesson. There are tons of surf instructors in Maui, but our hands-down favorite are at Maui Surf Lessons mostly because they offer private lessons and take you away from crowded surf school locations. 
Living in paradise is attainable. Maui is one of the most beautiful and accessible places on the planet, and there are some amazing homes available. There's no harm in looking at what's available, be it for full time or part time residency. See some of the best new Maui real estate listings.
If you're visiting Maui in Winter, you can't miss seeing Maui's famous humpback whales, which come here every year between December and May. The best way to see them is on a whale watching tour. The pros know where the whales are and how to get you (safely) close to them. It's an experience no one in your family will ever forget. For value, whale watch tours visit Malolo Charters or call (808) 856-4274. Or for a different experience call Pride of Maui at 1-877-867-7433
For adventure lovers and thrill seekers, you can't do better than ziplining in Maui. We have several options for zipline tours, including Piiholo Zipline in Makawao, who provides the longest side-by-side zipline in the state. Call 1-800-374-7050.  Another excellent option is Maui Zipline Company at the Maui Tropical Plantation. Children as young as 5 years old zip over the gardens, farms, and lagoon. Call (808) 633-2464
Take a scenic drive through upcountry Maui and head to the highest point on the island, Haleakala, at 10,000 feet. Whether you want to make it an early morning and head up to watch the sunrise or make the drive later in the day to catch the sunset, Haleakala is a great place for the whole family to bundle up and enjoy the views below. Pack warm clothing, a snack, and your camera!  Valley Isle Excursions will drive you for your Haleakala sunrise, which makes things easier and allows access without a hassle of reserving your park pass months ahead of time.  They have a unique agreement with the park, so you can book their tour, and leave permitting to them.
A visit to Maui's aquarium is spellbinding anytime, but it's a great activity if you happen to catch one of Maui's rare rainy days or if the kids have gotten too much sun. It's also a great evening option. There is dining on site and there are tons of organized activities for kids. Check out the giant sharks and rays and stay for feeding time for a real treat. Maui Ocean Center is centrally located at Maalaea Harbor, so it's easy to get to from most areas of the island.
Taking in aerial views Maui from the seat of a helicopter is a one of a kind experience. With Go Fly Maui, take a photography adventure flight in a doors-off helicopter over Maui. The crew at Go Fly Maui are passionate aerial photographers that can help you capture the perfect image. Craft your flight itinerary and watch your creative vision come to life! Go Fly Maui also offers discovery flights out of their flight school, allowing anyone the chance to learn how to fly a helicopter! Call Go Fly Maui at (808) 633-5356.

Enjoy five days of culinary delights, cinema celebrations, and film screenings under the stars at the Maui Film Festival. With a handful of film premieres, culinary events, and award ceremonies, the annual Maui Film Festival brings both Maui residents and visitors together to celebrate Hawaiian culture, the Maui community, and the art of film.
Watch professional glass artists make all manner of beautiful island-inspired artwork at Hot Island Glass in Makawao Town.  Visiting this Maui mainstay is a must-do!
One of the most exhilarating activities in Maui is riding a bike along Haleakala volcano. Located in Haleakala National Park, Haleakala is a dormant volcano and also Maui's largest. Skyline Hawaii is one of the most popular, with both biking and ziplining, daytime, and other great tours. You can even take a van tour of the summit and enjoy the downhill ride through some of the most majestic scenery in Maui. Set up your trip by calling (808) 745-1323.
The only thing better than cruising around the beautiful island of Maui is doing it in a 1957 Porsche Speedster reproduction model. Check out Maui Roadsters' fleet of convertibles, and explore some of Maui's most scenic areas in style. A great option for those celebrating their wedding, honeymoon, or special occasion with a loved one!

There are several great hikes in Maui. From state parks to national parks, there's a hike for every level of hiker in the family, but this is probably best for kids ten and up. This is a great way to take in some of Maui's best scenery. North Maui waterfalls, along the Road to Hana, and Haleakala Crater are just some of our favorites. Hike Maui will take you on a guided hike to the most beautiful hikes on Maui by calling (808) 879-5270.
We need a 17 and 18!
Scuba diving is an awesome way for ocean lovers to explore Maui from below! Those new to diving can do a discover dive with a professional scuba diving instructor with no experience necessary or get fully Padi certified. Those already certified can enjoy a scooter dive, night dive, or any number of other great underwater experiences.
Boat tours are an undisputed must-do for every Maui visitor. However, for those looking for something a little more intimate and in-depth, Shadowfax offers private, custom sailing and snorkel tours aboard their 44-foot bluewater sailboat. The knowledgeable crew aboard Shadowfax will help you seek out private snorkeling coves, visit sites only accessible by boat, and sail around Maui's coast. The best part is that Shadowfax tours are completely private, so you can share your adventure with up to six of your closest family and friends. Call or text Captain Lydia at (808) 359-8182
Maui is home to more than one gorgeous and unique black sand beach. We like the one at Wai'anapanapa State Park in Hana. Aside from exploring the surreal-looking beach, you can explore sea caves, a natural stone arch and hiking trails. There are even several housekeeping cabins available for a unique camping experience.
We need a #22!
In the winter, the monster waves arrive in Hawaii and so do some of the world's greatest surfers. In Maui, Ho'okipa is the place to sit on the sand and marvel at both nature and the people who surf Maui. It's an amazing day for the whole family.
Maui's Best Massage is one of the island's premier massage outcall service provider.  Without leaving your room, their therapist will come to you and unkink all those knots that are keeping you from having a truly relaxing vacation.  Call (808) 426-7418 to make an appointment today!
For the sunrise, you want to go to Hana. For the sunset, the views from the water are incredible. There are several sunset cruises in Maui, but Pacific Whale Foundation is rated the best on the island for a reason. For the price of a good dinner at one of Maui's nicer restaurants, you can have a great meal, enjoy an open bar and live music and see an incredible sunset. Call 1-877-867-7433. Another high-quality sunset dinner cruise is Quicksilver, offering prime rib, island fish, grilled chicken dinners, and much more. Call (888) 700-3764 for more info.
Play a Round of Miniature Golf, Island Style
Get your mini golf on at Maalaea! There's a really fun course next to the harbor.  There are also a few othres around the island if you know where to go!
#27- tell us what should go here!
This list always changes, so let us know what should go in this slot!  
 Take The Ferry to Lana'i
The ferry ride to lanai only takes about twenty minutes each way, and it's a fun trip for the kids. During the winter, you may be lucky enough to spot some whales on the way, too. You can ride over for a couple of hours of snorkeling or take the first morning ferry there and the last evening ferry back to Maui so that you can see more of the beautiful island of Lanai. Beach camping is also another great option.
 Go Fishing
There are scores of fishing boats and tours in Maui, even some family-friendly options with kid-sized gear. Spend a few hours or a whole day. We recommend early morning or late afternoon/early evening trips. The kids will have a blast catching some local fish and if your catch is enough for a meal, there's usually someone handy to dress the fish for you. You could even grill it up beachside for your dinner. Several beaches on the island have public barbecue facilities. Maui Fun Charters offers a great trip with top-notch gear. Call (808) 572-2345
Take a Hula Lesson
There are countless opportunities to learn a little hula and they're often free. Check with your hotel, if they don't have free hula lessons, they can tell you who does. Most luaus encourage guests to come up on stage to learn, but there are more private settings too. It's an awesome time for the whole family.
Get Cultured
The Maui Arts and Cultural Center, located across from the University of Hawai'i Maui college campus and adjacent to Keopuolani Park, is one place you shouldn't miss. Aside from live music from both Hawaii and around the world, real hula and art exhibits, there is storytelling and plenty of activities for the kids. Many shows and activities are free and the website has a calendar of upcoming events to make your pre-trip planning easy. If you want your kids (and you) to have a taste of true Hawaiian history and culture, this is a wonderful place to get it.
 Go Camping
Not too many tourists think of camping when they plan their trips to Maui, but for outdoor enthusiasts, camping in Maui is a wonderful experience. There are several options on the island, with a wide range of facilities and amenities, though most lack much of either. The national parks are generally in the higher elevations, require a decent hike and have few facilities. We like Kanaha Beach Park, which is one of the last Maui County parks to allow camping. It has a great beach with lifeguards, outdoor showers, barbecue and picnic facilities and restrooms. There are even a couple of volleyball courts on site.
For something more remote without a strenuous hike, try Kipahulu Campground, which sits in a state park near Hana. It's a favorite with locals for the gorgeous scenery, barbecue facilities and the short walk to the jaw-dropping Seven Sacred Pools.
Go Parasailing
Parasailing over the ocean in Maui is a breathtaking experience, and not one reserved for teens and adults. West Maui Parasail offers double and triple tandem parasailing for kids as young as six years old. They have two locations to choose from, Lahaina Harbor and Ka'anapali Beach. There are two heights to choose from and rides typically last about eight to ten minutes. If your kids are okay with heights, they may tell you this was their favorite thing about the trip!
Go Sailing
Very few ocean trips compare to cutting through the water with the only sound being from the wind (and maybe some nearby whales.)  We love the freedom of sailing on a yacht or catamaran.  Maui is one of the windiest islands with Maalaea being the windiest harbor in the world, which makes for pretty consistent conditions for those that love to sail. Some sailboats will even let you steer in the captains seat.  We've done a bunch of sailing trips:  romantic sunset pupu sail, mid-day with the kids, and even to go snorkel some outside reefs or Molokini.  It's worth checking out.
We need a #35!
Visit One of Maui's Beautiful Art Galleries
Maui has some wonderful local art galleries, showcasing both international and local artists and many art forms. Hui Noeau Visual Arts Center in Makawao is a historic estate with fascinating exhibits, beautiful grounds and a very nice gift shop. The Maui Arts & Culture Center also features changing art exhibits. If you need a break from the sun, these are two great places to spend it. When on the east side, Hana has a fantastic gallery of local artwork at the Travaasa Hana.
 Visit The Farmer's Market
Farmer's Market Maui in Kihei is a must-do for those who love good food. Local farmers supply the freshest produce on Maui and this is one of the best places to find unusual local items such as passion fruit, star fruit, and Maui's famous pineapples. Let the kids pick out some foods they've never tried (lots of free samples are available, too) and take your finds to the beach or back to your hotel. Don't leave without a tub of their famous coconut tapioca pudding!
Whalers Village 
Lahaina used to be a whaling town, and evidence of that is everywhere you look. The Whaler's Village complex is a collection of shops, restaurants, and the wonderful Whalers Museum, and is one of the most popular attractions in Lahaina for good reason. Fascinating whale talks are given, and the scrimshaw exhibits and recreation of a whaling ship at the museum are favorites for kids. Whaler's Village has all kinds of events scheduled and regular activities include hula lessons and craft projects. This is a great place for the whole family.
Warren & Annabelle's Magic Show
Before you assume that this is some tacky show offered at a local strip mall, let us assure you that Warren & Annabelle's Magic Show is a theatre production that has won all kinds of awards and thousands of loyal fans. The atmosphere is one of an elegant supper club, but the mood is fun and casual. It's a four hour fun-fest that starts with truly world class food and cocktails and moves on to some really fun and intimate interaction with sleight-of-hand magician Warren. (Annabelle is the resident ghost, by the way.) Language is clean and although cocktails are served, families are welcome. Older kids will probably have the most fun.
See The World Famous Banyan Tree
The world-famous Banyan tree in Lahaina's Banyan Tree Park stands seven-stories high and covers about 200 square feet of area. It's not only a majestic site, but the location for many festivals, events and activities. If you come in December, don't miss the ceremonial lighting of the tree; it's really spectacular.
Visit Some Spectacular Waterfalls
There are some amazingly beautiful waterfalls in Maui and some of them are great for swimming and accessible with little hiking. Most are found on the way to Hana. Puohokamoa Falls is at Mile Marker #12. It's usually easy to spot because of the cars parked there. This is a great waterfall to take the kids to, as it's only a quick walk to the falls and the swimming is wonderful. If you visit Haleakala State park, be sure to stop at Oheo Gulch in Kipahulu. This is where you'll find the Seven Sacred Pools, which are often crowded but wonderful for swimming, with several waterfalls.
We need a #42!
Have a Beach Barbecue
For dining al fresco, nothing beats a barbecue at the beach. A day of swimming, skimming or snorkeling followed by lots of delicious food is one of the great pleasures of island living. There are many beaches that have public grills and picnic tables, and you can pick up a cooler, steaks, or hamburgers at the nearest store for far less than a meal at a restaurant. Spend all day at the beach, have a nice meal, and watch the sunset before heading back to your hotel.
 Visit The Animals and Support a Great Cause
Kids of all ages love animals, and little kids especially love petting zoos and the chance to pet or feed the animals. Leilani Farm Sanctuary provides that opportunity for the whole family. Located in Haiku, the Leilani Farm Sanctuary is a safe haven for rescued farm animals and a wonderful place to spend some time. You can even adopt or sponsor one of the "residents" with your donation. The kids will love it and it's a very peaceful break from the noise and crowds at other attractions.
 Yoga Classes
One of the main reasons people vacation in Hawaii is to relax. Some find their relaxation and spiritual calm while doing yoga. Yoga is a great way to loosen, strengthen the body while increasing circulation and positive energy. Paia Yoga offers classes (including hot yoga) from experienced instructors. Call (808) 866-7681
Experience Hawaiian Shave Ice
Chances are you've tried shave ice back home, but you haven't really tasted it until you've tasted it here. Intensely flavored, finer than snow, and served in huge portions, shave ice is almost a state dish. In Hawaii, we take our shave ice very seriously and the most popular spots in Maui enjoy long lines. One of the best places for shave ice is Ululani's, voted best shave ice in Maui many times over. They have three locations, two in Lahaina and one in Kihei. We suggest you hit them all!
Visit Iao Valley
Steeped in interesting local history, take a scenic drive through Wailuku into Iao Valley to explore the area where King Kamehameha I defeated the Maui army in his efforts to unite the Hawaiian islands. Entrance is only $5 per vehicle, so pack a picnic lunch, take a short walk up to see the Iao Valley Needle, and take a dip in the stream below for a relaxing day in Maui's beautiful mountains.
 Horseback Riding
You may not think of horses when you think of Maui, but horseback riding is big in Maui's upcountry. There are several great stables in Maui that accommodate the whole family. We highly recommend Maui Stables in Hana for their nearly four-hour tour of some incredible sights. Probably best for older kids, given the length of the tour.
 Enjoy a Round of Golf
Maui is home to some of the best golf courses in the world. What makes this island special are the incredible views, pure greens, and well designed professional courses. Some spots get more wind than others, but if you plan right, you'll get a great day hitting 18.
 Visit a Neighboring Island
Daily ferries will take you directly to the neighbor islands of Lanai and Molokai, which each offer spectacular beauty and rich historical significance. Take a mule ride through the cliffs on Molokai or visit Sweetheart Rock on Lanai for a memorable experience for the whole family. You may even want to rent a car and explore the island yourself or stay for a couple days before heading back to Maui. Either way, visiting a neighbor island is a great way to see more of what Hawaii has to offer.
 Bonus: Ride a Submarine!
Atlantis Submarine will take you underwater to see schools of tropical fish and a real sunken ship. Enjoy the clear water without even getting wet! Kids must be 36″ to take the tour. Great for the adventure-lovers!
Bonus: Explore Lava!
Much of the island's best scenery is lush and green, but Maui's lava fields are a source of almost otherworldly beauty. One of the best places to see this almost lunar landscape is near Makena in the Kihei area. One of the best ways to do that is on horseback. Makena Stables offers horseback tours through the lush upcountry and the lava fields. It's a tour appropriate for both beginners and more experienced riders, but those comfortable on the back of a horse will be able to focus more on what they're seeing and less on staying seated.