From lush, razor-backed mountains to some of the largest sea cliffs in the world, it's no wonder why Molokai is considered one of the best-kept secrets in Hawaii.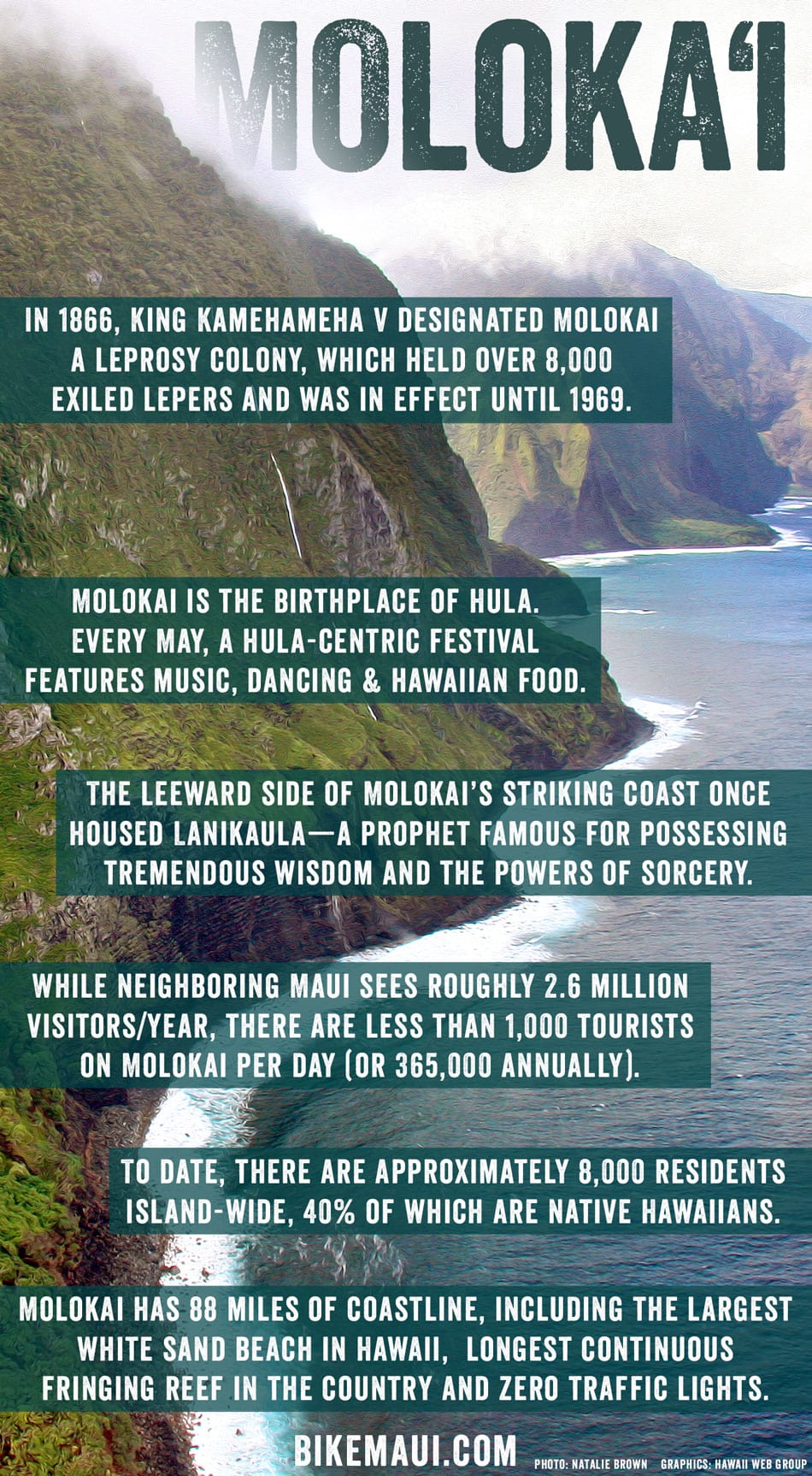 Commonly known as the Friendly Isle, this sparsely populated gem comprises part of Maui County and sits just eight miles off of Maui's western shores.  Mahalo to Bike Maui for the great article!  Check them out for bike tours, bike rentals and van tours around the island.
Six Facts to Know About Molokai Before You Go
Whether you're taking a ferry there for the day or planning a quiet escape, here are six facts to know before you go:
Molokai was once home to a leprosy colony.
Also known as Hansen's disease, leprosy—a communicable disease that impacts the respiratory system and nerves and results in a telltale clustering of the skin—was once a worldwide epidemic, spurring countries to quarantine those afflicted with the then largely-misunderstood diagnosis.
In 1866, Hawaii took note, and King Kamehameha V designated Molokai—the fifth largest island in the archipelago—a sanitarium for lepers, whose often conspicuous symptoms were feared and whose victims were stigmatized. Over 8,000 people were exiled to Molokai, the majority of them native Hawaiians.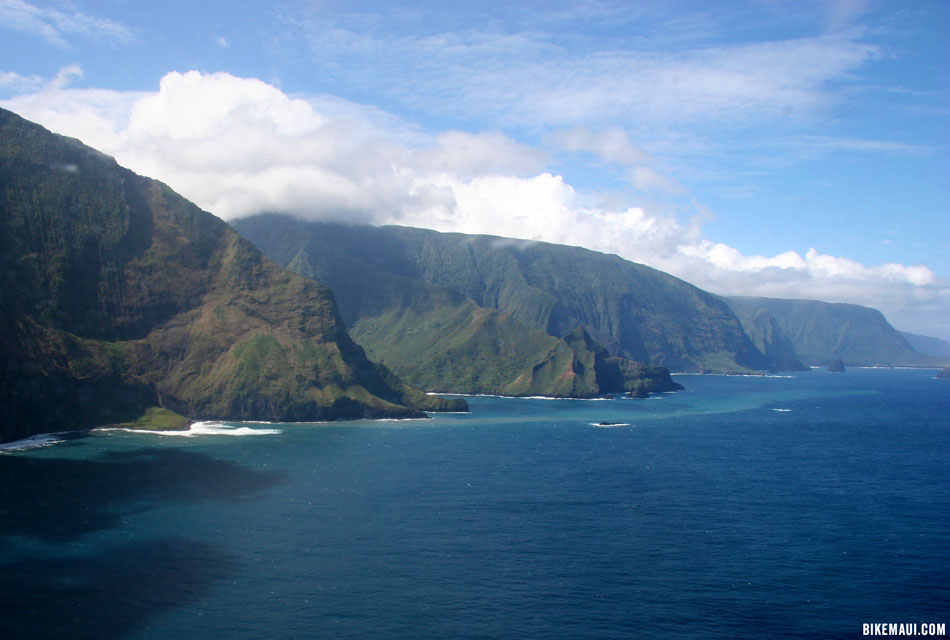 Shrouded by 2,000-foot sea cliffs on Molokai's fertile Kalaupapa Peninsula, Kalaupapa transitioned from an ancient Hawaiian fishing village to one of the most well-known leper colonies on the planet (and prompting Jack London to write a searing account of his visit).
Isolation was held in effect until 1969; by then, the remaining survivors were either scarred for life—thereby dramatically complicating their integration into modern society—or had fallen in love with the settlement they'd called home since the sentence was put into place over a hundred years earlier. The government permitted them to stay until their demise; today it has six patients who remain in residence.
Now, visitors curious about its tragic, poignant past can take mule rides or assisted hikes down to Kalaupapa's rustic shoreline. Now a National Park, it's where Father Damien—a Roman Catholic priest and "martyr of charity"—died of the same disease he ministered.
Molokai is the birthplace of hula.
Hula is, inarguably, the unspoken language of the Hawaiian Islands, a lovely form of storytelling that dates back thousands of centuries.
While most islands assert to be the origin of this ancient art—who wouldn't want to lay claim to such an honor?—general consensus insists that Molokai is the true home of this beloved luau staple.
Hawaiian lore tells the story of Laka, a pan-Polynesian cultural luminary, who traveled from island to island spreading the lessons of her dance and chants and its impending position in Hawaiian traditions and history. It's said that her first dance was performed on a hill in Kaana on the island's western point. To this day, this title is celebrated every May at Molokai's Ka Hula Piko—a hula-centric festival that features music, dancing and traditional Hawaiian food.
Molokai was once home to one of Hawaii's most famous sorcerers.
The leeward side of Molokai's striking coast once housed Lanikaula—a prophet famous throughout the islands for possessing tremendous wisdom and the powers of sorcery.
Simultaneously feared and highly sought, Lanikaula offered shelter and advice to veterans of war and those who had been religiously persecuted. Indeed, at one time, Molokai was considered a retreat for all Hawaiians, due in part to its reputation for having some of the islands' most revered religious leaders.
Lanikaula, who died in the 1500s, continues to be honored today at Puu Hoku Ranch in Molokai's eastern region, where he's believed to be buried in a thicket of kukui nut trees. Local legend maintains that the gravesite be duly respected, reciting the story of a farmer who tried to level the trees only to suffer from a stroke and die in poverty.
Molokai continues to maintain its Old Hawaii sensibility.
While Western contact for the other major islands began in 1778 with the arrival of Captain James Cook's fleet on the shores of Kauai's Waimea, Molokai was left largely untouched until Captain Dixon sailed in eight years later.
Consider it proper foreshadowing for what was to come: while today Oahu, Maui, the Big Island and Kauai are broadly modernized—home to Targets, considerable populations and towering resorts—Molokai deliberately moves at a much slower pace. There are no traffic lights, and, besides cottages, visitors have a choice between a single resort and five condo complexes, all of which have spotty Wifi at best. And while neighboring Maui sees roughly 2.6 million visitors per year, there are less than 1,000 tourists on Molokai per day (or 365,000 annually). To date, there are approximately 8,000 residents island-wide, 40% of which are native Hawaiians.
Think of it as a boon for those who do make their way to Molokai's gorgeous shores: home to 88 miles of coastline, its beaches are pristine and predominately deserted, rendering it a sunbather's paradise—particularly Papohaku, which, at three miles long, is one of the largest white sand beaches in Hawaii.
Molokai boasts the longest continuous fringing reef in the country.
Consider them the underwater equivalent of a forest: coral reefs are one of nature's most spectacular feats, housing some of the most incredible Maui marine life to be seen, including the humuhumunukunukuapuaa, Hawaii's state fish.
Molokai should know: it's home to the largest continuous fringing reef in all U.S. holdings—a beauty that stretches 28 miles long on the southern coast of the island. Hawaiian Green Sea Turtles—otherwise known as honu—often frolic in these parts, while just off shore sightseers can take in the splendor of a migrating Humpback Whale.
…and one of the Aloha State's oldest groves of coconut palms.
Kapuaiwa was put on the map in the 1860s, when King Kamehameha V (yes, the same king who imprisoned lepers on the island's peninsula) designated 10 acres on Molokai's southern shore to coconut trees.
Once a sacred place kupuna (elders) deemed kapu (forbidden), Kapuaiwa now prohibits visitors from entering the grove due to threats of falling coconuts. Nevertheless, sunsets can still be relished just outside the generous copse. Framed by coconut palms or not, know this: no photos of Molokai need a filter—this is natural Hawaiian beauty at its finest.
Many of the Molokai aerial photos are courtesy of Natalie Brown.