We're updating all our popular posts to reflect changes due to the fires across Maui.  If you're looking for updates and ways to help, check out Maui Fires.
Maui is one of the most family-friendly beach destinations you can hope for, and an excellent place for kids of all ages to explore a wide range of both land and ocean activities. No matter if it's their first time swimming in the ocean or walking on the slopes of a volcano, kids and adults alike are bound to have a magical time experiencing everything Maui has to offer.
Below we've outlined some of the best activities for kids on Maui, and encourage you to see as much as you can during your next trip!
Top Activities for Kids on Maui
Maui Zipline
Perfect for kids ages 5 and up, Maui Zipline offers a 5-line course in central Maui at the conveniently-placed Maui Tropical Plantation. Soaring over palm trees and a huge duck pond with amazing views of the West Maui Mountains and Haleakala Volcano, each of the 5 lines are side-by-side, allowing kids to race their parents or other members of their group.
This is by far the most family-friendly zipline course around Maui, and the easiest to get to! Plus, the guides are all very experienced and well-versed in their knowledge of Hawaii's history, flora and fauna, culture, and other interesting tidbits that add to your tour.
Maui Ocean Center
Maui's only aquarium is also Hawaii's largest and most popular. By collecting fish and other marine species found in Hawaiian waters, and with impressive exhibits like the 750,000-gallon shark tank, Hawaiian green sea turtles, baby hammerhead sharks, sea jellies and more, the Keiki are sure to love it all.
Located in central Maui at Ma'alaea Harbor, Maui Ocean Center offers unique opportunities to learn more about Hawaii's marine life, including expert guest speakers, winter whale watching, and even occasional overnight sleepovers in the aquarium itself!
Private Surf Lesson
There's nothing quite like the feeling of riding your first wave, and Maui is just the place to do it. With perfect beginner surf conditions all year round, there stretches of coastline perfect for surfing.
Get private Maui surf lessons, which gives your child (or family) more personal attention, customized tips for standing up, and time spent riding waves (rather than waiting in the line-up) than larger group lessons. All the instructors are experienced local surfers, and they even offer complimentary GoPro photos with each tour.
Pizza!
Come dinner time, pizza is usually an easy sell to most kids. Maui's latest and greatest pizza joint is located in scenic Upcountry Maui. Restaurant Marlow is owned by prominent Maui chef Jeff Scheer. After opening its doors in mid-2021, Marlow has already garnered a reputation island-wide for having some of Maui's best pizza. These pies are made Neapolitan style with sourdough crust, cooked in a kiawe wood-fired oven from Italy. What's more is that Marlow prides itself on using only the best ingredients, many of which are sourced from local farms.
You can certainly taste the difference, and kids will never know that it's a healthier alternative to Pizza Hut. Marlow is family-friendly, with outdoor seating and high chairs available. The restaurant itself was even named after Jeff's daughter!
Snorkel with Sea Turtles
Due to its protected status, Hawaiian Green Sea Turtle populations have been able to thrive in the Aloha State. Adults and kids alike love to swim with these majestic animals, and we highly recommend snorkeling at Turtle Town, an area known for its large number of turtles in Makena, Maui.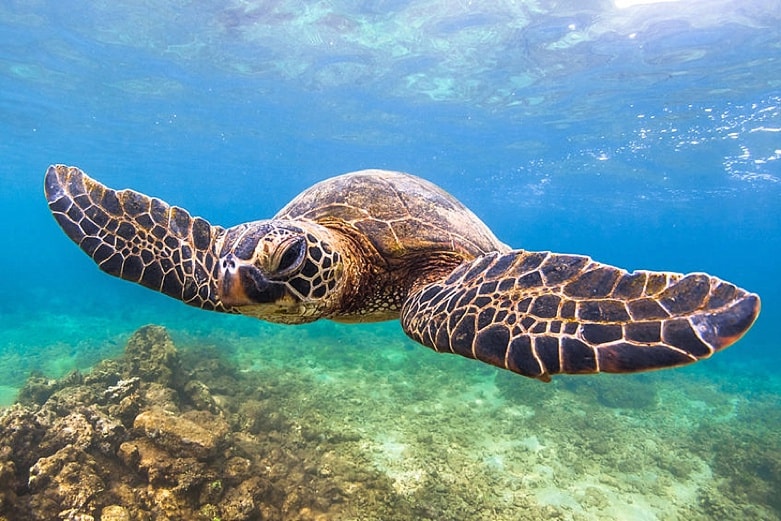 The easiest way to do this is to join a snorkel boat tour, most of which offer combined tours to Turtle Town and the beautiful Molokini Crater. For the best family-friendly snorkeling tours, we recommend Kai Kanani and Trilogy.
Twin Falls
Located on Maui's north shore, Twin Falls is the first waterfall located along the scenic Road to Hana. Since this spot often fills up in afternoon hours, we recommend getting here early to enjoy amazing snacks and drinks from the Twin Falls farm stand, followed by a short hike to the property's multiple waterfalls.
Remember not to leave any valuables in your car, and be aware of some slippery rocks and mud along your walk. These waterfalls are a great day trip for all ages and an amazing place for a refreshing waterfall dip!
Helicopter Tour
The fastest way to see the most unique views of the island is definitely by helicopter. Flying over the West Maui Mountains and Hana rainforest allows for waterfall views you can't see by car or foot, and aerial views of Upcountry Maui and Haleakala Volcano are truly stunning.
Many Maui Helicopters offer several helicopter tours of Maui and its neighbor islands, including the steepest sea cliffs in the world on the island of Molokai, as well as the north coast of the Big Island. Well worth it for an unforgettable view!
Maui Luaus
It's often said that it isn't a Maui vacation without doing a luau.  We agree!  It's so much fun for everyone, especially the kids.  Some luaus offer hands-on crafts for the kids, pretty much all luaus have the kids get up and do some dancing on the stage (with some instruction), the food is kid-friendly, and the show blows their little minds!
Many of the luaus on Maui have fire knife dancing, which inevitably ends up being the highlight for kids.  The music, dancing, food, and sunset are also loved.  Plenty of area for the kids to run around ensures they don't get bored with any one element.  AND, most luaus have an open bar, so mommy and daddy find relaxation as well as entertainment.
Mahalo for reading our list of the best activities for kids on Maui! What activities did we miss? Let us know in the comments below.