When traveling to Maui, there are a few things worth reserving beforehand in order to escape the hassle and/or higher prices.
1 – Car Rental
It feels like regardless of when we reserve, we always have a hassle with car rentals.  But at least when you reserve far enough ahead, you usually get lower rates.  Most car rental agencies have no-obligation reservation forms, which is nice if you decide to check prices again closer to your date and want to re-reserve.  Fill out your no-obligation Maui car rental request before prices potentially go bananas. This is one of the more helpful Maui vacation reservations to have taken care of before you arrive.
2 – Outrigger Sailing Canoe
Two things every Maui visitor must do: snorkel and learn about Hawaiian culture. And fortunately, Maui Sailing Canoe's outrigger canoe tour effortlessly blends the two. Owned by a husband-wife duo with deep ties to the ocean, Maui Sailing Canoe connects visitors to Hawaiian culture by hosting excursions aboard their outrigger canoe, Ke Anuenue. Guests learn about all aspects of Polynesian voyaging, from navigational techniques to canoe construction, and even help launch the canoe from the sand at Polo Beach.
After a cruise down the Wailea coast, the tour stops at a sheltered snorkeling nook— far from the crowds and buzzy tour boats. This excursion also doubles as a whale watch in winter, where up-close encounters aren't uncommon. Regardless, whatever time of year you sail with Maui Sailing Canoe, you'll come away with a renewed respect for the ancient Polynesians who settled in Hawaii— and epic memories of a day well spent on Maui!
3 – Maui Helicopter Tours
If there's one thing that puts the cherry on top of a Maui vacation, it's a helicopter flight around the island. With Go Fly Maui, you are free to craft your own itinerary and visit whatever area of Maui you may be dreaming of. Go Fly Maui's crew are passionate photographers who are committed to helping you take home stunning Maui aerial shots from your flight. Photography flights are conducted in an off-doors helicopter to give you the best view possible. Go Fly Maui is also the island's only helicopter flight school and offers discovery flights to anyone interested in what it's like to be a helicopter pilot. Helicopter flights are easily one of Maui's most sought-after activities, so booking in advance is recommended.
4 – Maui Luaus
Maui luaus have limited capacity, and many are on only a few days per week.  Where you're staying and what kind of a luau you want determines which luau you want to go to, further narrowing options.  It's worth booking Maui luau seats ahead of time to make sure it doesn't fill up.  Luaus are regarded as a vital part of any Maui vacation.  They mix Hawaiian/Polynesian history with music, dance, and great food (all while sipping drinks and watching a sunset over the ocean.)
5 – Hotel, Resort, Condos
Duh.  You've got to stay somewhere.  Mauiʻs West Side and South Side are the most popular and are closest to any of the harbors you might be sailing, snorkeling, whale-watching, or sunset cruising out of.. As far as best prices are concerned, it's contentious whether or not it's better to book way ahead or last minute.  We do know. However, during peak seasons, it can be hell to find a place last minute.  Whether you're looking to stay at a big resort or rent your own condo, start looking now and book your Maui accommodations.
6 – Popular Maui Restaurants
Some Maui hot spots can have long waits.  And on Maui, it doesn't necessarily need to be Friday or Saturday night.  Visitors to Maui are eating out any day of the week, so our more popular restaurants can have a wait at 4 pm on a Tuesday.  Use OpenTable or call directly to book a table before you arrive to ensure unforgettable dining experiences.  Restaurant Marlow is one of those burgeoning hot spots that take reservations on OpenTable.  'Aipono Award winner of Chef of the Year, Jeff Scheer, owns and runs this concept in Upcountry Maui.  Sourcing from the freshest local ingredients available, this restaurant serves up gourmet pizza, pasta, and other in-season delights. Great sunset views can be found at Mahalo AleWorks next door, where you can bring in your food from Restaurant Marlow.
7 – Maui Massage
Ideally, having a massage right off the plane as well as just before leaving again would make for the perfect Maui vacation.  But even just one massage can set you straight.  There are many spas and massage parlors around the island, but we prefer to use Maui's Best Massage for a few reasons.  Sam and his team are THE BEST (we can attest from our at least monthly massages), and they come to you.  So, if you're flying in at 1 pm, book your massage for 3 pm at your hotel or condo.  You'll have time to unpack, shower, and begin your vacation right with an in-room massage!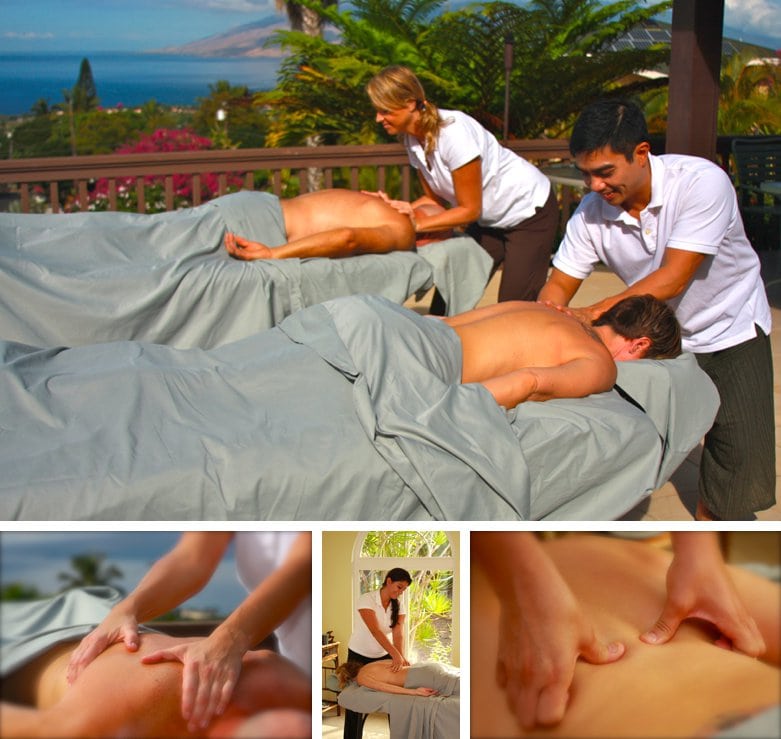 8 – Snorkel Gear Rentals
Most people don't think of this.  Numerous snorkel shops around Maui rent gear.  But how much of your time do you want to spend driving around finding the best one?  When you rent Maui snorkel gear online, you're putting more precious snorkel time back into our miraculous ocean.  It's really quick to do and makes sure you have a high-quality set ready for you in your size. If you're looking for a step further, you can do a discovery scuba dive.
9 – Maui Camping Permit & Gear
Another overlooked activity on Maui is camping.  If you're interested in taking advantage of one of our incredible camping spots, make sure to lock down your permit beforehand.  And then pack up 40 pounds of equipment in your checked baggage… Or not.  We found that you can also reserve your camping gear to alleviate the burden of traveling with loads of stuff on your flight.  It's not expensive and saves you a hassle.  Now you can camp in paradise without much work or expense.  Learn more about Maui camping spots.
10 – Maui Roadsters
There are only very few of these beautiful machines on Maui, and they go FAST!  Book a 1957 Porsche Speedster replica for some carefree cruising around Maui! We've ridden in these on multiple occasions, and it was a blast!  A lot of brides are also now booking them for arrival or departure from the ceremony/reception as well as for photos, so they're in even more demand.