If you only have a small window to explore the stunning beauty of Maui, we want to make sure you don't waste your time behind a slow-driving chicken farmer on the Road to Hana or end up eating at a tourist trap restaurant!  And fear not, you will even work in a little time for your Maui tan!  Ready, set, go!

Day #1
In a perfect world, you get a little more than two days in Maui, but if it's strictly 2, start early morning with sunrise at Haleakala's Summit.  Reservations are now required for sunrise, but if you go on a Haleakala tour, you can book when you want.  You can bike, zipline, wine taste, and do farm tours along with your trip to the summit.
Stop at Restaurant Marlow for lunch (Mon-Sat 7 am-2 pm, 8 am on Sundays) before returning to your hotel.  Delicious woodfired pizzas await you just down the hill.  If you can't make it for lunch, come back for dinner (4:30-9 daily.) Chef Jeff Scheer has been responsible for some of the most innovative dining experiences in Hawaii.  Now, he runs his own restaurant serving from-scratch comfort food.
Digest next door at Mahalo Aleworks Brewery with a pint and views of Haleakala and South, Central, and West Maui.  Not ready for a beer?  Grab a kombucha or nitro cold brew on tap, or get a growler and some ice to enjoy later tonight.
Now that you're fed and have picked up a growler for later, put on your island attire and head over to Big Beach.  Maui is known for its epic beach scene, and you are a mere 30 minutes away from the #1 beach on the island!  Go for a quick dip, enjoy the scene, and relax for a little bit. Big Beach is also very nice in the morning and makes for a great walk to start the day, and you'll bypass the winds that pick up in the afternoon.  A golden tan isn't a shabby way to start your two-day vacation!  Be extra careful in the shore break here. Many people get injured in these waves.
Don't get too drowsy because you have a 1:00 pm snorkeling appointment with the Molokini Crater!  Sitting starboard on a power catamaran, you'll be swept away to pristine waters with visibility up to 100 feet.  And they will make a quick stop off at Turtle Town, where your dream of swimming alongside a gigantic sea turtle will come true!  You'll be back by 4:30, which is plenty of time to shower and prepare for a fun-filled evening out. Check out these great Molokini tours!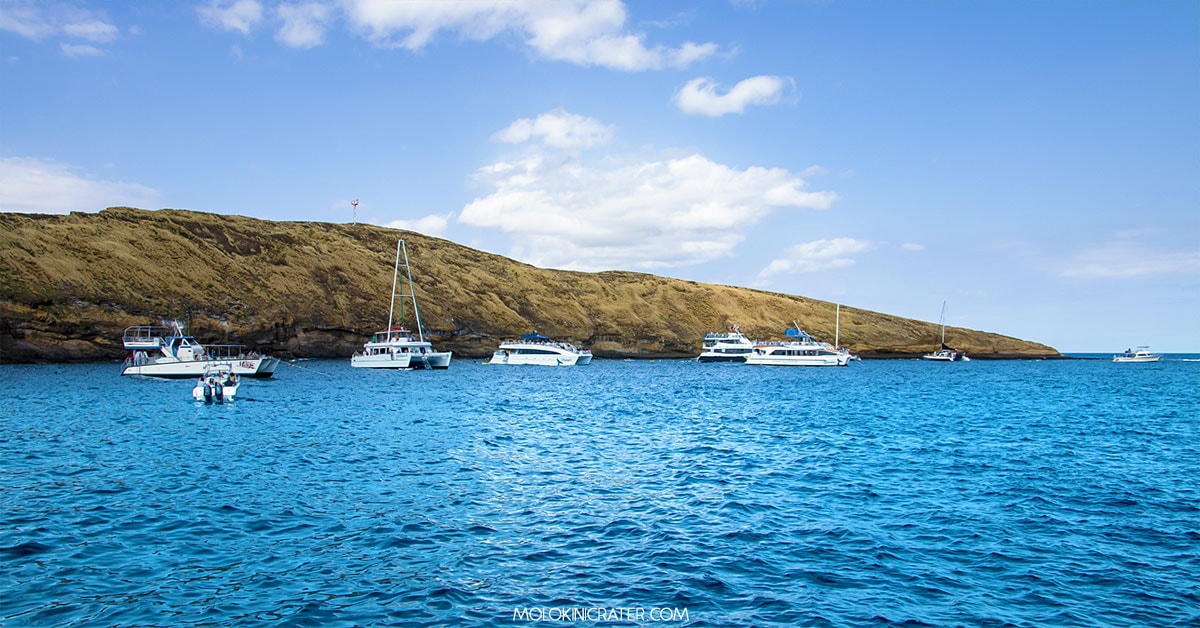 Congratulations on a fabulous first day of vacation!  Now get some rest before we start the second half of your adventure!
Day #2
Good morning sunshine!  After a heavenly sleep on your comfy king-sized bed, it's time to seize this day!  After you've freshened up (no judgment if you chose to jump in the pool over the shower this morning!), get ready to feast your eyes on the entire island while avoiding traffic jams and leisure day drivers.  Helicopter Tours will show you everything from the rainforest of Hana to the breathtaking Haleakala Crater, 10,000 feet above sea level.  From the mountains to the ocean, you'll get to see things that land-locked tourists can't get to!  And this complete island tour is only 65 minutes, so you still have plenty of time in your day for more fun!
Alright, it's now time to make the most of this last leg!  Here are a few options for your evening festivities, depending on what day it is:
1.  Sunday Night- Little Beach Drum Circle:  I don't want to give too much away, but this drum circle is unlike anything you've probably ever seen.  Jaw-dropping sunsets paint the background as this clothing-optional crowd dances to the beat of bongos, congas, and clapping.  If the party is still going after sundown, you'll get a front-row seat to the fire dancers!
2.  Last Friday of every Month (we'll see if this starts up again) – Kihei Fourth Friday Party:  The whole town gets down and parties on the last Friday of the month!  Food vendors, live music, art, and hula entertainment is at your fingertips!
3.  If music is your scene, Maui Brewing Company is your speed.  With live music and excellent food trucks, you'll be a happy camper.  And let's not forget the beer that makes Maui so proud!
4.  Feel like a luau?  The Grand Wailea Luau offers a stunning evening of storytelling and fire dancing, with the added perk of an authentic and delicious Hawaiian luau feast.
And there you have it!  Before heading off to bed, make sure to pat yourself on the back for making the most of your two-day vacation in paradise!