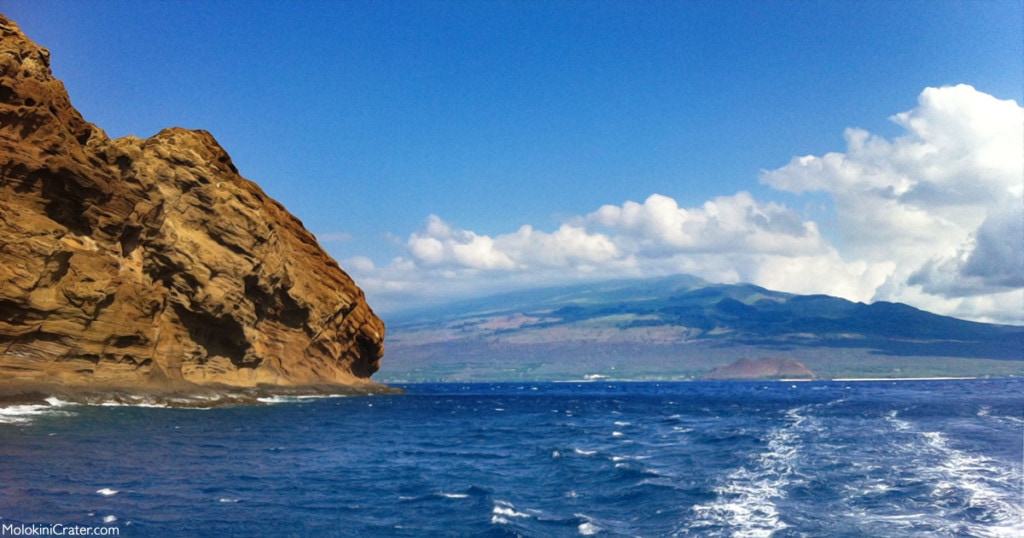 Arrive on Maui's leeward side, and it may be impossible to tear your eyes away from Molokini. This small, horseshoe-shaped landmass rests between Makena and the outlying island of Kaho'olawe. Roughly two and a half miles away—and little more than fifteen minutes by boat from Kihei—the volcanic ledge, half-submerged in water, presents not just eye-candy from shore but also some of the most spectacular snorkeling and diving opps in the world, including Molokini Back Wall, a drift dive at one of the best dive sites in Hawaii.
Hyperbole, this is not. While the islet is comprised of a mere 23 acres—with its highest point reaching 161 feet above sea level—the water that surrounds it is some of the clearest on Earth (thanks in part to the fact that Molokini is primarily rock, and, as such, has little in the way of sand and sediment). 250 marine creatures call the crater home, ranging from the yellow tang and Bluefin trevally to Moorish idol and large pelagic animals (such as whale sharks). Above the sea, Molokini serves as an official Hawaii State Seabird Sanctuary, attracting the likes of wedge-tailed shearwaters, Bulwer's petrels, and great frigatebirds—a black-plumed beauty that favors the tropical Pacific. All it takes is some minimal scuba gear, good buoyancy control, and some good weather conditions, and you will be on your way to a most memorable Maui dive session at the top dive site on Maui.
Given the clarity of its water—up to 80 feet deep—and schools of fish that have grown comfortable with the sight of humans beside them, Molokini snorkeling trips have topped most Maui bucket lists. And while the crater presents a number of exceptional sites for seeing underwater marvels—from "Tako Flats" with its abundance of octopuses to "Enenu'i" with its colonies of antler coral. Reef's End is another great spot, and its backside is one for the record books. The Back Wall of Molokini Crater is a spectacular dive site along a sheer wall only for experienced divers, where weather and skill level play big roles in the success of the dive. The result is a beautiful dive facing a vertical wall full of fish and other marine life that you surely won't forget.
Facing south, the back wall of Molokini—itself a barren, curious spectacle—appears almost hauntingly ragged. Traditionally visited by ancient Hawaiians for the fishing opportunities it offered—some of which can still be found by divers, such as fishing lures and old sinking stones—the islet became a target for bombing practices during World War II, given that its size and shape resembles a battleship. The southwest rim of the islet carries scars from this time—pocked rock and shorn ledges that look, well, bombed. But what remains on Molokini's backside is an underwater, sheer wall that drops 350 feet out to the open ocean and a southwest corner with an elevator-like surge—rendering drift dives along this part an experienced diver's Shangri-La. (Remember that Maui has a lot of elevation, do not exceed 1000 feet of elevation for 24 – 48 hours after diving.)
Part of that intrigue and bliss is due to the back wall's mix of obscurity and visibility. During a drift dive or live boat dive, approximately (and astoundingly) 150 feet of perceptibility is available. Still, that underwater wall falls out of sight, while parts of the ocean here are dark and opaque. The marine life one can see, however, will surely amaze, from pyramid butterflyfish and long-nose hawkfish to white-tip reef sharks and jacks—as well as moray eels, slipper lobsters, grey reef sharks, eagle rays, cauliflower and Elkhorn coral, cleaning stations, and deep crevices that provide residence to pipefish, crabs, and shrimp. Check out some of the other Molokini dive sites.
But the biggest draw of Molokini's back wall—part of an eruption that occurred 230,000 years ago and rated one of the top ten diving sites in the world—is the chance to see some of the ocean's largest and most astonishing creatures. Given that this part borders the open sea, one never knows what will come in from the Pacific, whether it's a manta ray of epic proportions, a pod of sleek spinner dolphins, or a Humpback whale during the winter months. Other wonders include porcupine fish, barracudas, big eye emperor fish, pencil urchins, and remnants of Molokini's past, from machine gun shells to unexploded bombs (the last unexploded munitions were detonated by the Navy in 1984).
It's in the dark pockets along the back wall that you may also come face to face with black coral—a precious resource that, due to its popularity in the creation of high-end jewelry, rendered the back wall a sought-after spot before Molokini's designation as a Marine Life Conservation District in 1977. Then and today, its black coral houses oysters, gobies—and more of those long-nose hawkfish.
Molokini's back wall isn't just for discovering rare and unexpected marine animals, either: researchers have visited the site to determine ancient ocean levels—levels that suggest that Molokini Crater would have been on land rather than on water at the end of the last ice age, in which sea levels, due to melting ice caps, were believed to exceed 400 feet.
Given that the Molokini Back Wall is considered a drift dive (or a live boat drive) that's subjected to currents, excellent buoyancy control is a must, as well as an ability to descend and ascend without a line and maintain a 15-foot safety stop. Always use a surface marker buoy for safety. This is for certified divers only and not for your first dive. And if you do visit and get the sense that Molokini is just a tip, perhaps even severed part of a larger plot, know you're not off-base: According to Hawaiian mythology, Molokini is the tail end of a moʻo—or sacred lizard—Pele cut in half in a fit of jealousy; the head is "Red Hill," the literally red cinder cone of Puʻu Oʻlai across the channel.
---