One of the best snorkeling destinations in Hawaii, Maui's Molokini Crater is the perfect morning getaway for anyone looking to enjoy spectacular views, clear water, and an array of marine life in the Aloha State.
But whether you choose to explore the Crater while snorkeling, scuba diving, sailing, or even kayaking and outrigger canoeing, it shouldn't be your only thing on the list for the day! Below we give you 10 more options for exciting Maui activities that can be combined with your day trip to Molokini.
Top 10 Maui Activities: Before & After Molokini Crater
*Note: For those who plan on scuba diving at Molokini, remember to stay below an elevation of 1,000 feet for the remainder of the day.
#1 Maui Zipline
Only a 10 to 30-minute drive from Ma'alaea Harbor, Kihei Boat Ramp, and Lahaina Harbor, the departure points for the majority of boat tours to Molokini Crater, Maui Zipline is an excellent post-Crater stop and one of the most family-friendly land tours on Maui.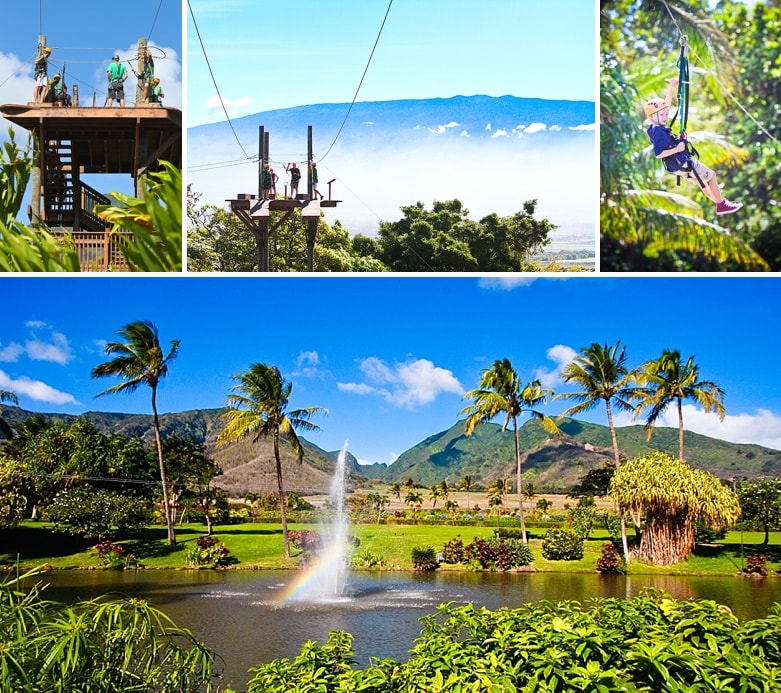 Their 5-line zip tour, located on the lush Maui Tropical Plantation grounds in Waikapu, offers side-by-side ziplines for the whole family. With friendly guides and killer views of the tropical grounds, Haleakala Volcano, and nearby West Maui Mountains, guests of all ages will enjoy this island thrill.
#2 Visit Iao Valley National Park
Located 3 miles west of Wailuku, Iao Valley is one of our absolute favorite spots on Maui. With rich historical significance as the former battleground between Maui's army and King Kamehameha, as well as breathtaking natural beauty, we highly recommend a visit.
With a small entrance fee of $5 per vehicle, it's also one of the most cost-effective ways to explore more of the island. Walk the lush park grounds, admiring the steep mountainous walls, and climb the stairs up to the overlook for Iao Needle, the park's 1,200-foot natural landmark. You may even want to take a quick dip in the refreshing Iao Stream!
#3 Tour Lahaina Town
Located in West Maui, Lahaina is visited by over 80% of visitors to Maui. With an abundance of historic landmarks, shops, restaurants, art galleries, and activities, it's definitely worth a visit.
As the former capital of Hawaii, history buffs will love learning more about the area on the Lahaina Historic Walking Tour, a walking tour of 28 historic sites. Those looking to do some serious souvenir shopping will find no shortage of Front Street shops, from small boutiques to large galleries. If you need to cool down, simply stop into one of the area's many restaurants, take a dip at Baby Beach, or post up under the shade of the famous banyan tree!
#4 Delicious feast, show, and sunset
Even if you head to Molokini in the late morning, you'll have plenty of time to get cleaned up and enjoy what most consider a Maui Must Do!  Luaus in Maui share the beauty of the Polynesian culture through delicious food, great drinks, lively show, powerful music, and all with a view of the sunset over the water.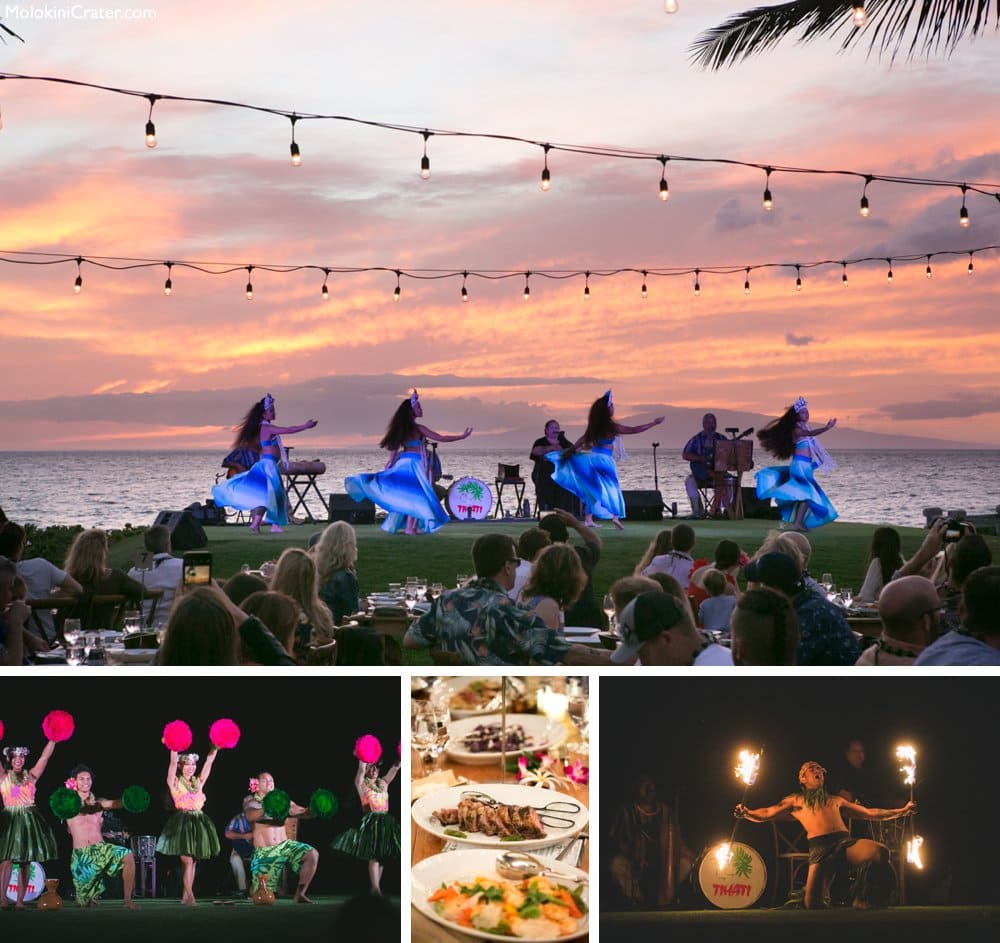 Our favorite part comes at the end of most luaus:  The Fire dancing ceremony.  If you haven't seen it, you went to the wrong luau!
#5 Go Beach Hopping
If you haven't already had enough fun in the sun, it's not too late! Grab the SPF and get ready for some sandy goodness on some of Maui's best beaches. Below we've chosen our favorite beaches in each area of the island (except for East Maui, because we don't recommend trying to make it here the same day you're going to Molokini). Just remember – when in doubt, don't go out!
South (Kihei, Wailea, Makena): Charley Young Beach, Keawakapu Beach, Makena "Big" Beach (watch out for the shore break!), and Paako Beach (aka Secret Beach)
North (Paia, Haiku): Baldwin Beach, Ho'okipa Beach Park (great for watching surfers and windsurfers)
West (Kaanapali, Napili, Kapalua): Kaanapali Beach (cliff diving at Black Rock), Napili Bay, D.T. Flemings Beach Park
#6 Explore a Lava Field
La Perouse is the southernmost accessible (driving) point of Maui, named for French naval officer and explorer Jean-Francois de Galaup Comte de Laperouse (whew!), who landed here in 1786. Once a predominant local fishing area, the villages of La Perouse were covered by a'a (jagged) lava when Haleakala Volcano erupted only a few years later.
Drive south past Makena and onto the paved road built into the lava field, and continue south to La Perouse Bay, where you can explore the area's archaeological sites and perhaps even see pods of Hawaiian Spinner Dolphins resting in the waters. Avid hikers may enjoy the King's Highway Trail, a 5.5 mile, exposed (and hot) hike that leads to Kanai'o Beach.
#7 Get a Massage
While there are a ton of amazing spas to choose from around Maui, we're guessing that you'd like to do as little work as possible in order to get a relaxing massage.
Fortunately, Maui's Best Massage offers outcall massage service directly to your hotel or condo room. Cheehoo! Book one of several types of massages, including relaxation, deep tissue, Hawaiian lomi lomi, couples or group massage, and treat yourself to a day of pampering.
#8 Experience a Maui Sunset
Along that same tune of relaxation, don't miss the gorgeous Maui sunset! Take a stroll along central Maui's lengthy Sugar Beach, West Maui's Kaanapali Beach (where you can watch the nightly cliff diving ceremony at Black Rock), or bring a blanket and enjoy the views from Kihei's Kama'ole Beach Park III.
However, you choose to enjoy your Maui sunset, make sure to appreciate the beauty of the island.
#9 Go Roller Skating
Sometimes there's no better way to shake off those sea legs than strapping yourself in a pair of skates. Located in central Kihei, Kalama Park offers Public Skating Night three times a week – Wednesdays from 6 to 8 pm, and Fridays & Saturdays from 6 to 9 pm.
A $5 entrance fee gets you a pair of skates (or blades, depending on your preference), helmet and pads, and is located conveniently near gorgeous views of the ocean and swaying palm trees. Great fun for the kids, and adults who don't mind channeling their inner kid.
#10 Attend an Island Art Party
Held nightly in North Kihei's Azeka Shopping Center, Island Art Party is a great opportunity to bond with your family and friends while creating a fun painting you can take home as a souvenir.
A resident artist will instruct you how to recreate a themed painting while you practice your painting skills, snack, and talk story! They have a full bar and fun music, and the staff is extremely friendly and patient. Also, they've recently started hosting a once-monthly Tuesday event at Maui Brewing Company in Kihei, where you can combine brushstrokes and brews. Fun!
We hope you have a life-changing trip, and enjoy many of the magnificent views and adventures Maui has to offer! Mahalo for reading, and please let us know what activities we missed in the comment section below.