Best Maui Snorkeling from Shore
Here on the Valley Isle, it's no secret that nature is paramount to the island's allure. Maui is home to a rare type of in-your-face natural beauty. It's for this reason that most visitors' itineraries are graced with a plethora of outdoor activities. What is the most in-demand of said outdoor activities? Snorkeling by a mile.
Maui is home to more miles of swimmable beaches than any other Hawaiian Island. Coupled with hundreds of acres of well-preserved coral reef, it's clear why the Valley Isle is Hawaii's top snorkeling destination. Be that as it may, most of Maui's visitors are from the mainland, and some are utterly unfamiliar with the ocean. Undoubtedly, Hawaiian seas are daunting. However, while we'll make no attempt to sugarcoat things in this post, we don't believe that lack of ocean experience should make anyone forgo their debut snorkeling adventure. Like most things in life, knowledge is power, and we've put together a comprehensive guide to snorkeling on Maui to ensure that your experience is strictly smooth sailing.

What To Know Before You Go
Before we go any further, here is the blunt, honest truth: ocean activities are the leading cause of visitor deaths in Hawaii, primarily snorkeling. So how do you avoid becoming a statistic? If you're not the strongest swimmer, consider taking a snorkel tour. Maui snorkeling tours only visit the areas with the best conditions, which means you won't find yourself being unexpectedly pummeled by waves or caught in a rough current. In addition, tour boats have snorkel instruction down to science. They'll set you up with all the gear, including flotation devices, if that makes you more comfortable. You'll be surrounded by other guests and under the careful eye of the crew, and seeing as it's a requirement for most boat crew members to be trained in CPR and first aid, you'll be in good hands. Whether you're snorkeling with a tour or outside your resort, or sailing off the coast of Maui, be sure to follow snorkeling's cardinal rule: always snorkel with a buddy.
It's also imperative that you do not step on the reef while snorkeling. Not only is the reef sharp and littered with urchins and staph-causing bacteria but stepping on the reef can severely damage or even kill corals. If you have to put your feet down, look for a sandy spot to do it safely. Corals are living animals, and they're vital to the health of both the ocean and the island. In fact, coral reefs provide Maui with $376 million worth of flood protection from storms and large surf every year. Living reefs act as breakwaters and help break waves offshore, dissipating 97% of the energy that would otherwise be barreling toward the coast. This builds a case for reef-safe sunscreen as well, which we'll discuss below.

When To Snorkel
If you are confident enough to snorkel from the beach, you must be knowledgeable and perceptive of ocean conditions. Not only can bad conditions put you in a dangerous situation, but they also destroy visibility.
On Maui, snorkeling conditions are best in the morning before the trade winds start absolutely cranking. Usually, mornings on less exposed coastlines yield glassy, calm conditions, perfect for snorkeling. However, if the wind is strong and/or there is swell in the water, you should snorkel another day or move to a different location. These gusty winds can sweep unsuspecting snorkelers out to sea, and the large swells can stir up strong currents and riptides or deposit you straight onto the lava rocks. Stay safe!

Gear
Snorkeling equipment like masks, snorkel, swim fins, and sunscreen- that's pretty much all you need. Some visitors choose to bring snorkeling gear from home or purchase gear after arrival. This is a good option if you're planning on using your snorkeling gear more than once. A complete set will only set you back about $20-30. If you're planning on snorkeling far offshore, don't forget the fins! If the current starts to pick up, you'll be glad to have them. (Pro tip: Put your fins on after you've walked down the beach and reached the shallow water. Otherwise, you'll look like a duck waddling down the sand. It's entertaining to watch as an observer but not practical for the snorkeler.)
If you'd prefer to rent snorkeling gear, various snorkel stores around Maui rent equipment. They can also help you get fitted with the right-sized snorkel gear. Boss Frogs is a reputable snorkel/dive company with rental options. You can also find gear rentals at kiosks around Kihei, Wailea, Lahaina, and various hotels. Rentals can run anywhere from $8-25 per day. Almost any boat trip will provide complementary snorkeling gear.
If you plan on snorkeling for a while, an SPF rash guard will offer some respite from the beating sun. Otherwise, reef-safe sunscreen is a must, must, must! Common chemicals in sunscreen have been found to make corals more susceptible to bleaching. Non-nano mineral sunscreens are the safest choice for coral reefs. Be sure to read the ingredients on your sunscreen label. Some brands advertise as "reef-friendly," but their products contain toxic chemicals. Zinc oxide all the way!
Be wary of full-face snorkel masks. There are theories that full-face snorkel masks can cause carbon dioxide to build up in the snorkel, leading to dizziness and unconsciousness. As a result, some tours have banned the use of full-face masks, but researchers have yet to draw any definitive conclusions.

What Will I See?
What you see depends on your snorkeling location. Still, you will assuredly see an underwater world full of different types of colorful corals, like vibrant yellow mounding coral or pinkish-tan cauliflower coral. At almost any reef, you'll find a variety of tangs, wrasses (parrot fish), and triggerfish (including our Hawaii state fish, Humuhumunukunukuapua'a). Moray eels, octopuses, sea urchins, sea slugs, and sometimes colorful mollusks can be spotted in shallow waters. In winter months, a Molokini snorkeling tour can easily turn into a whale-watching tour.
As you head into deeper water, you might be greeted by a green sea turtle or two, or three… or ten. In recent years, their population has boomed, and they can be found in abundance all around the island. If you're especially lucky, you might see a spotted eagle ray or a graceful manta ray, or even an elusive Hawaiian monk seal. Remember, Hawaii's marine animals are protected under both federal and state law. So approaching them is a huge no-no. Just relax and watch them do their thing.
Now, to address the elephant in the room… sharks. There's an old saying that goes, "if you want to know if there are sharks where you're swimming, just taste the water. If it's salty, there are sharks." After all, it is their ocean. That being said, the chances of you encountering a shark during your snorkeling sesh is highly unlikely. Being a shark attack victim is even more improbable. If anything, you might see a small reef shark, but they are pretty much like big fish. They pay no mind to humans unless they're provoked. Swimming at dawn, dusk, or in murky water can up your odds of a shark encounter, so avoid doing that.

Where To Snorkel – Top 5 Maui Snorkeling Spots
South Maui, West Maui, and the famous Molokini crater are the crown jewels for snorkeling on Maui. However, since Molokini is so well known already, we're going to skip over that spot and focus more on snorkeling sites where you can snorkel directly from the beach.

#1 Black Rock, Kaʻanapali Beach – West Maui Snorkeling
Black Rock at Kaanapali Beach scores major points for its accessibility. Kaanapali Beach is one of Maui's main tourism hubs, with heaps of resorts and restaurants dotting the sand. Black Rock, traditionally known as Puʻu Kekaʻa, is located on the north end of Kaʻanapali Beach and offers easy water access and decent snorkeling. There's not much of a reef to speak of, but you can find large schools of colorful fish, lava rock formations, and plenty of corals growing along the point. Hawaiian Green Sea Turtles are also found here in abundance.

Calm ocean conditions are necessary for snorkeling at Black Rock. Otherwise, you will encounter strong currents out on the point. Luckily, you'll find favorable conditions and crystal clear water most mornings, with winds starting to kick in between 10 am and noon. Unfortunately, Ka'anapali Beach can pick up on large north and south swells, so avoid snorkeling or swimming here if large waves are breaking on the shore.
Looking to stay down a little longer with a scuba diving lesson or session?  This is a great company to check out.

#2 Olowalu – West Maui
Olowalu is known as Maui's "mother reef." It is Maui's largest reef and is home to coral heads between 500 and 1500 years old. A small strip of sand off the highway near Lahaina Town offers easy water access, protected snorkeling, and stunning views of the West Maui Mountains from the water. The water here is generally clear, and while there can be some large swells in the summertime, Olowalu is typically sheltered from waves. The biggest thing to watch out for here is the wind, which can whip through the valley at up to 50 mph. Mornings are usually the calmest.
Olowalu is home to scores of unique sea life – rays, Hawaiian green sea turtles, reef sharks, eels, sea stars, octopus, sea cucumbers, and, if the stars align, manta rays, spinner dolphins, and monk seals. Olowalu is also known for its underwater "turtle cleaning station," where green sea turtles congregate and enjoy a "cleaning" from reef fish which munch algae growths off their shell. A similar cleaning station can be found in South Maui at Turtle Town.
Be careful not to get your car stuck in the sand! Unless you have a 4×4, don't drive into the sand. If you're from Maui, you've probably lost count of the number of rentals you've seen stuck in the sand here. So visitors, heed this warning!
If you're traveling towards Lahaina on Honoapiʻilani Highway, Olowalu Beach is located about a mile past Ukumehame Beach Park.

#3 Honolua Bay – West Maui
This horseshoe-shaped bay is located a few miles past the Ritz Carlton in Kapalua and offers some of the best snorkeling on the island. Here you are guaranteed to see lots of coral formations, tropical fish, and 9 times out of 10, green sea turtles. From November to April, you may spot a humpback whale breaching in the distance. The bay is enormous, and there is plenty of opportunities to find a coral reef worth checking out away from the crowds.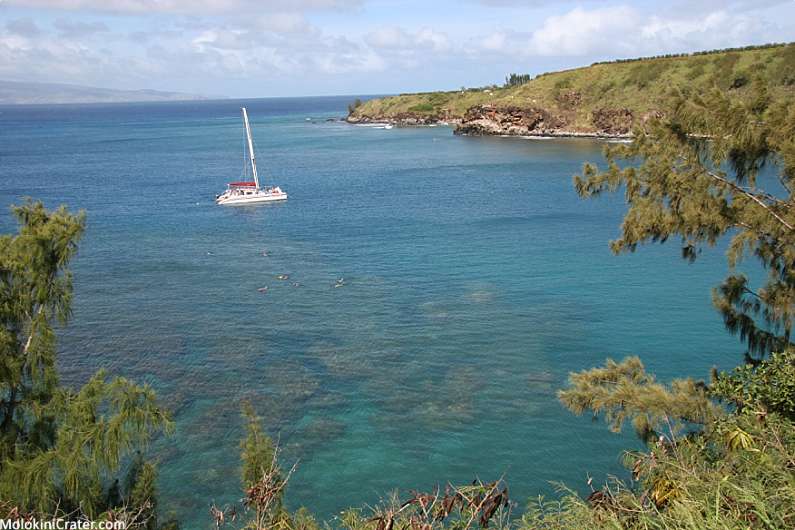 There are a few drawbacks to snorkeling here. First, water access can be tricky as the "beach" is mostly large slippery boulders, so exercise caution when getting in and out of the water. Secondly, there is a stream mouth that deposits directly into the bay. This can create poor visibility along the shoreline, and sometimes you can't see even a foot in front of you. However, if you're willing to swim out beyond the murk, the visibility drastically improves. Swimming in murky water comes with its own risks, though, so take a moment to assess your own personal comfort level. If you're not keen on swimming offshore, there are a handful of tour boats that sail directly into the bay and deposit snorkelers near the best spots on the reef. Lastly, Honolua Bay becomes a world-class surf spot in the winter, and conditions become too dangerous for snorkeling. The best opportunities for snorkeling here are in the summer.
That being said, Honolua Bay is located in a Marine Life Conservation District, and it shows. The bay is abundant with marine life, and since the bay is so huge, you can easily spend an entire day exploring different parts of the coral reef. Not to mention the access trail to the bay is like a jungle wonderland and makes for some great photo opportunities. Honolua Bay is one of the most beautiful places on Maui and its no surprise that it's one of the top snorkeling spots as well.
Honolua Bay is located between mile markers 32 and 33 on Honoapi'ilani Highway, a few miles past Kapalua.

#4 Maluaka Beach (AKA Turtle Town) – South Maui
Maluaka Beach, also known as Turtle Town, is located in South Maui off Makena Road, fronting the Makena Golf Club and Resort. Maluaka is great for several reasons:
● Morning conditions are usually calm.
● There's plenty of parking, picnic tables, easy beach access, and facilities like public restrooms, recycle bins, and freshwater outdoor showers.
● There's a crazy-high concentration of sea turtles in the area. That's why the area is dubbed "turtle town."
The snorkeling at Maluaka is best alongside the point on the south end of this beautiful sandy beach. You'll often see tour boats making their second stop of the day here. The reef covers a large area, meaning there is plenty to explore and lots of space to get away from the crowds. In comparison with the north shore, South Maui is not primarily known for large surf, except on occasional swells from the south in the summer and the west in the winter. The waves are calm most of the time. Many snorkeling tours offer a stop at Turtle Town, giving guests the opportunity to see the Hawaiian green sea turtle as well as tropical fish, coral gardens, and other marine life.
Maluaka Beach can be accessed via Makena Beach Road or Makena Keoneoio Road. The Makena Keoneoio Road entrance leads to the south end of the beach, where the best snorkeling is.

#5 Ulua Beach – South Maui
Ulua Beach is a sheltered strip of sand tucked in between the Andaz and the Marriott in Wailea, not far from Turtle Town. It's located directly off the Wailea Beach path, making it ultra-accessible to those staying in Wailea. However, if you're planning on driving here, you better set your early morning alarm because parking is slim pickings after 9 am.
Ulua Beach is basically a cove with rocky points on both the north and south sides, with expanses of sand in between. Both the north and south points offer excellent snorkeling. The north end is better for beginners as the current can pick up near the south end. No lifeguards are on duty at Ulua Beach. There are public restrooms and freshwater showers near the parking lot. If you're interested in scuba diving, Ulua Beach is a great place to start. This accessible sandy beach is a favorite among dive instructors, and there's a great beginner-level scuba dive just offshore. Beginners and advanced scuba divers will enjoy this spot.
If you would prefer a snorkeling tour of this area, give this tour a try.
Look for Ulua Beach Road off Wailea Alanui Drive. This leads to the beach parking lot.

Mahalo for reading our list of the top 5 places to snorkel on Maui! What are some of your favorite experiences snorkeling on Maui? Let us know in the comments below.